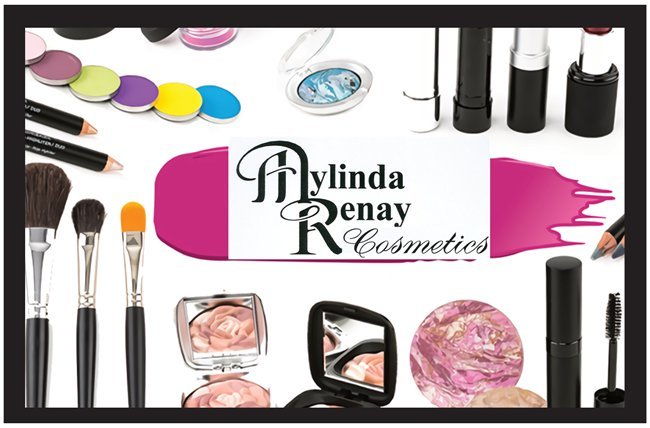 The vision started when Mylinda created a make-up line with great coverage, protection without oils to clog your pores and added moisturizing properties to condition your skin while giving you the coverage you need to look beautiful.
Mylinda Renay's professional brand is non-comedegenic, hypoallergenic, fragrance free, oil free, and includes sunscreen protection
Mylinda Renay Salon beauty entrepreneur Mylinda Renay Hoard launched her make-up brand in 2001. Mylinda Renay Cosmetics make-up brand has been used by beauty professionals and make-up artists for over 18 years. Once Mylinda opened her Salon & Spa she set out to become a creative visionary and driving force behind Mylinda Renay and her Cosmetics line. Her entrepreneurial vision has been recognized with accolades such as "Top Day Spa", " Best Salon", "Top Women in Business" to name a few. In addition her artistic team applied her Cosmetic brand Mylinda Renay Cosmetics when competing and Winning Internationally for Passion Magazine.   Beginning in the beauty industry in 1979, Renay has achieved success for over 37 years.  Her journey as a self-made entrepreneur and Women in Business has always been about how she can serve others and create a beautiful experience. Her make-up line is an extension of that vision. Her companies design team has been recognized in local newspapers such as Star Telegram for bridal expertise using Mylinda Renay Cosmetics. She felt it unfair not to share her dependable make-up line with others that may be looking for the perfect solutions to create a desired look.  She knows her make-up line can achieve great results for individuals or professionals working Mylinda Renay Cosmetics. Many beauty professionals choose Mylinda Renay cosmetics for bridal make-up and everyday use, This alone serves is a testament that Mylinda Renay make-up products work to give you flawless look that any women desires. We know it is one of the best coverages for healthy skin but even beyond that Mylinda Renay concealers and flawless foundations can conceal problem areas such as acne or even skin conditions such as a port wine stain birth mark.
"Why not share Mylinda Renay with the general consumer"
NOW

Mylinda Renay Cosmetics is not only available in salon but we have brought it to everyone in our on-line store.  Any general consumers that desires a gorgeous coverage and array of make-up colors can now purchase our brand.

Moisturize with Vitamin E stick for smooth, softer, and more refreshed lips.

Loose shimmering bronzer can be used on the 

face or body 

for that healthy sunkissed glow!




This colorless priming gel reduces the appearance of fine lines and smoothes skin. Apply before your foundation for flawless makeup application.

 

Skin Perfecting Foundation

 A medium coverage formula lifts and tightens while plumping fine lines.  Contains Peptides & UVA/UVB protection

 

Flawless Finish Foundation

This oil absorbing

 cream to powder 

formula contains Nylon 12 to even out your skin tone leaving you with a "Flawless Finish." Lightweight full coverage formula.

 

Dual Active Powder Foundation

This exclusive oil-free and fragrance-free formula is infused with antioxidants that inhibits premature aging due to exposure to free radicals. 

Use 

wet for more coverage or dry 

for a glowing, natural look.

 

This compact style bronzer

 

conveniently give you that healthy sun tan glow.

 

Translucent Pressed Powder

Oil absorbing face powder with natural colorants is perfect for a quick makeup refresher!

 

Set your makeup for all-day wear with this oil-free, triple milled, translucent powder.

 

This lash-building mascara is enriched with Panthenol (Vitamin B5) for moisturizing and conditioning lashes

 

These creamy and richly pigmented eye pencils glide on smoothly

 

i-Line

With just a drop or two, turn an eyeshadow or shimmer powder into a water-proof eyeliner. Or apply over an eye pencil to seal it in place.

 

Glitz Fix

This is a must have for any serious glitter lover! This water soluable gel adhesive is safe on the eyes and skin.

 

Eye Glitter 

Loose cosmetic grade glitter in smaller jar with sifter, best when used with Glitz Fix.




Eye Shadows

A variety of highly pigmented pressed eye shadows to complement any skin tone.

Available in Matte, Pearl, and Super Pearl formulas. Can be applied wet or dry.

 

Brow Definers

These triple milled pressed brow powders will fill, define, and shape brows 

 

Antioxidant Eye Base

Cream to powder base holds shadow in place, while neutralizing lid to show true shadow color with the added benefits of antioxidants

 

Eye Glitter 

Loose cosmetic grade glitter in smaller jar with sifter, best when used with Glitz Fix.

 

Mineral Eyez

Loose mineral shimmer powder in small jar with sifter

 

Powder Blush

12 shades of pressed powder blushes in a range of finishes from matte to super pearl

*Please Note: M- Matte Formula / SP- Super Pearl Formula / MP- Matte Pearl Formula  

 

Pixie Blush

Super frosted blushes highlight cheeks and add a hint of color.

 

Camouflage Cover Cream

Rich and creamy concealer in tube with doe-foot applicator. 

 

Lipsticks

50 shades of super frosted, frosted, and cream based colors enriched with antioxidants, Vitamin E, and other lip pampering emollients. This creamy formula blankets your lips with rich and brilliant color.

Classic Matte Lipsticks

This beautiful collection of matte lipsticks offers an array of colors to choose from for a bold, matte look. 

 

Lipglass Lipstick

Our most moisturizing and creamy formula. Give your lips a pop of brilliant color with a glossy shine.

 

Intense Lips Lipstick

Super intense, shimmery shine, frosty finish!

 

Lip glosses

 This lip gloss collection is enriched with natural plant-based emollients and comes in a variety of shades, some with shimmer, some without. Wear alone or accent your favorite lipstick.

Hint of Mint

Ultra sheer and shiny gloss with the delicate flavor of mint. Wear alone or accent your favorite lipstick with shimmer and shine.

 

Lip Pencils

incredibly creamy pencils. These inspiring shades will define your lips and enhance your lip color. 

Lip Seal

Smudge proof sealer to keep lipstick in place all day.

 

Precision Liner

Long lasting felt tip pen. Perfect for the ultimate cat eye!




Mylinda Renay Salon and Boutique 

120 N.Main Street   Suite C

Grapevine, Texas 76051