BRIDAL SALON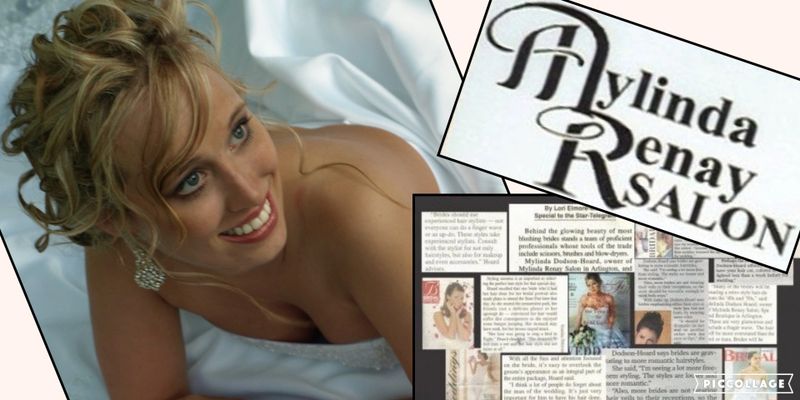 PRIOR TO YOUR BRIDAL PORTRAIT

All Brides receive a complimentary hair stylist consultation.
This is a great time to express your wedding style.
It is suggested that you bring any desired hairstyle photos and
all other pictures of your dress, jewelry, and head piece.


After your consultation, an appointment will be scheduled with your
hair stylist for a practice style with your head piece.
Sometimes this
is not necessary if you and your hair stylist have agreed on your perfect wedding style.
BRIDAL PACKAGE
Bridal Bliss includes:
Bridal Hair Style
Make-up Application
Reg - $135.00 Now - $120.00


Practice Formal Styling Starting at $60


ON YOUR SPECIAL DAY
All Wedding Styles Starting at $65
Hair Cut and Style $70
Groom's Cut and Style $42
(Cutting should be completed 1 week prior to special events)


1 Hour is booked for all bridal party appointments at Mylinda Renay Salon and Spa


*Please see previous pages for treatment descriptions.


The day of your portrait is the perfect day for anyone accompanying you to your portrait to receive a relaxing service, such as a manicure or pedicure.
The entire bride and groom party can have a relaxing and rejuvenating day at Mylinda Renay Salon and Spa.


MAKE-UP

Professional, flawless, photo ready make-up applications are recommended for the 
entire wedding party. 
Mylinda Renay Cosmetics are hypoallergenic, fragrance free, non-comdegenic, oil free, ans has sunscreen to protect your skin. 

Make-Up Touch Up $30
Make-Up Application $55
Make-Up Lesson $75


MULTIPLE SERVICES
When you receive more than three services In one day, you will receive 10% OFF


WEDDING ON LOCATION
If you wish, we will be happy to be on location for you and your party. 
The charge for our services is $100 for the first hour and $75 for every hour thereafter for each professional.



BRIDAL PARTY ETIQUETTE
All members of the wedding party will be given an appointment.
 Please arrive at your scheduled time with your hair shampooed, gelled, and dried. 
Remember to wear something that you can remove without disturbing your perfectly styled hair.


BRIDAL HINTS
Give yourself and your bridal party adequate time for the completion of services and travel time to the wedding location. Upon arrival at the location, give yourself one full hour to dress and prepare yourself for pictures, which generally starts two hours prior to your ceremony.
Thank you for including Mylinda Renay in your s
pecial day!
Mylinda Renay Salon Boutique 
120 N.Main Street  Suite C 
Grapevine, Texas 76051
(INSIDE The Vine Salon and Spa)
817-861-6992  or  817-461-1717
www.MylindaRenaySalon.com